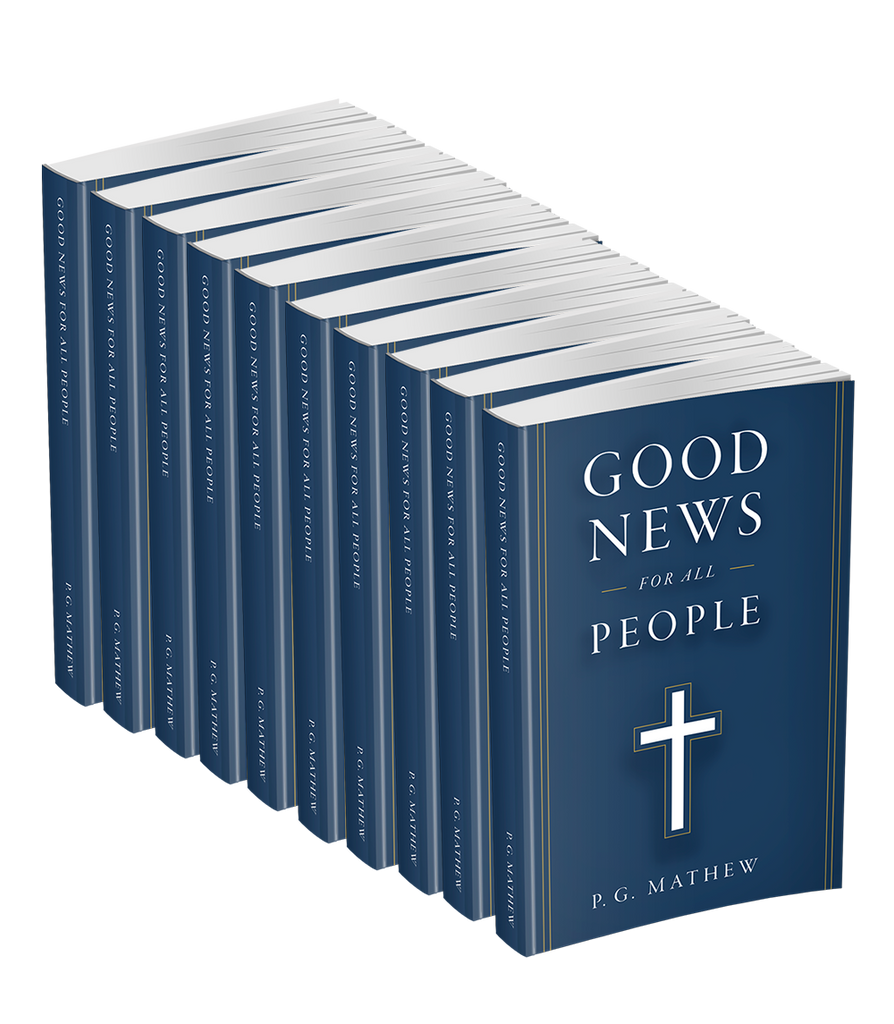 Sale
"What must I do to be saved?"
One singular, eternal problem faces all mankind. Amazingly, the only remedy has been Divinely provided.
This good news for all is declared powerfully in Good News for All People, the latest release from Grace and Glory Ministries. In less than one hundred pages, the Reverend P. G. Mathew's latest work explains the heart of the gospel—God's good news for sinners—with clarity, cogency, and conviction. Scripture-saturated content grounds a piercing and personal appeal to apply God's truth to the heart.
Concise, easily-understood chapters illuminate what every reader needs to know about man's infinite problem and God's perfect solution. Its simplicity however, should not be confused with simple-mindedness. As a consummate theologian and pastor, Pastor Mathew takes complex and crucial theological concepts—Sin, Salvation, Faith—and applies them to the mind and conscience without compromising the depth and greatness of God's truths. Application questions and an analytical outline facilitate further self-examination and group discussion.
The book begins with the "Divine Diagnosis of Man's Heart," which clarifies that God's law does not save us but rather serves as the "straight edge that shows us how crooked we are. Jesus alone can make us straight" (10). The next three chapters, "Justification by Grace", "Redemption in Christ", and "Salvation as Propitiation," display how God has accomplished salvation in Jesus Christ. Pastor Mathew shows how sinners cannot save themselves; rather they can only be saved by grace. "The righteousness of God is a justifying, divine, God-given righteousness that meets our need" (18). Jesus is our Redeemer who paid the high price for our ransom. Through him we have forgiveness of our sins and the sure hope of heaven.
"Sola Fide" clearly defines saving faith as "moving out of ourselves and laying hold of the object of our faith, Jesus Christ" (58). Refuting the emotional, irrational notion of faith common in today's world, Pastor Mathew exhorts his readers that "the fundamental ingredient of saving faith is orthodoxy; we must believe the gospel" (59). Faith does not save but rather is the instrumental cause by which we are united with our Savior, Jesus Christ.
"Soli Deo Gloria" provides a glorious capstone, lifting the reader to praise the source of this good news – the Triune God. Christians should never be guilty of boasting, discrimination or lawlessness because we are justified purely by grace. Pastor Mathew combats the widespread antinomian heresy rampant in today's culture with the Scriptural reality that because of Christ's redemption we are actually set free to do what is right. He writes, "In his great love and rich mercy, God made us alive that we might serve him" (37).
Good News for All People is ideal for both the inquirer seeking to know the gospel for the first time as well as the mature follower of Christ desiring to be refreshed with the incredible and rich truths of God's grace.
102 pages
ISBN: 97B-097711496-2